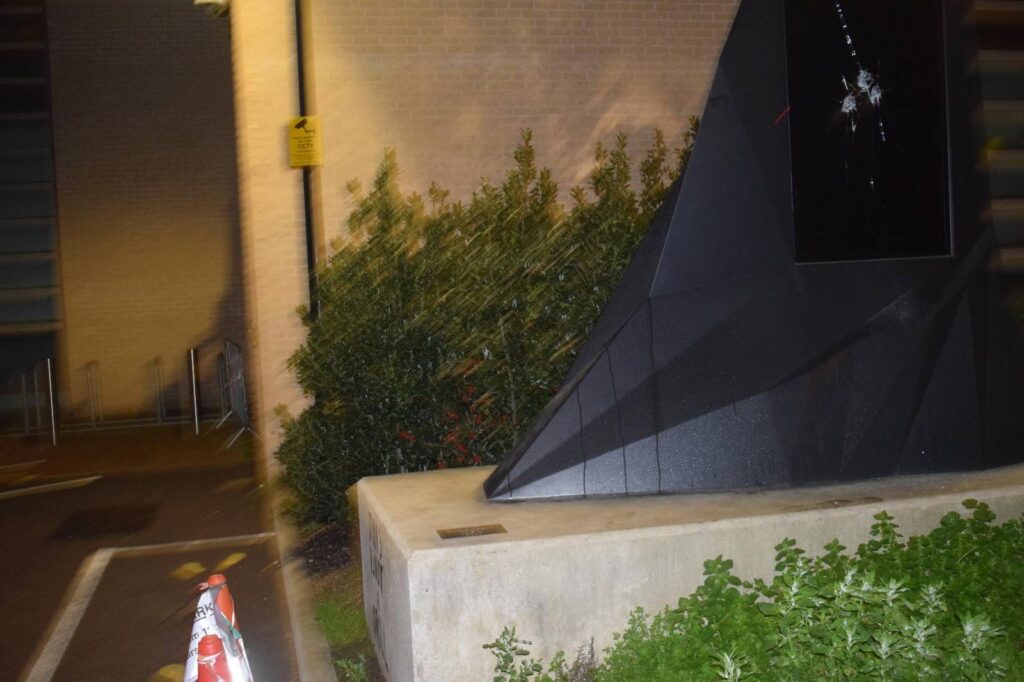 HIT REPORT. Environmental activists have shattered the iconic advertising screen at the University of Cambridge's Engineering Department on Fen Causeway. The group took this action to protest and highlight the department's strong links to fossil fuel companies while the University pretends to advocate for climate action at COP27. The activists spray-painted "THIS IS NOT A DRILL" underneath the screen.
The Engineering Department is a hotbed of fossil fuel funding and research:
In its own words, the department's Geotechnical and Environmental Research Group "enjoys" research collaborations with BP and Shell
The department's Centre for Doctoral Training (CDT) in Future Infrastructure and Built Environment lists oil and gas production as a research theme and runs multiple projects directly involved with oil and gas
The CDT is funded by no less than eight fossil fuel companies:

BP and Schlumberger – two of the world's largest fossil fuel companies and greenwashers
WSP, who "support… upstream, midstream, downstream oil and gas activities at all stages of the project lifecycle, anywhere in the world"
CH2M, who provide a "portfolio of services to assess, plan, estimate, schedule, engineer, construct and operate oil production and gas gathering and processing facilities"
Atkins (a subsidiary of SNC Lavalin), who provide expertise in several fossil gas technologies
Mott Macdonald, who provide a plethora of oil and gas consulting services
This is the first known direct action taken against the department for its fossil fuel connections. We predict it won't be the last.