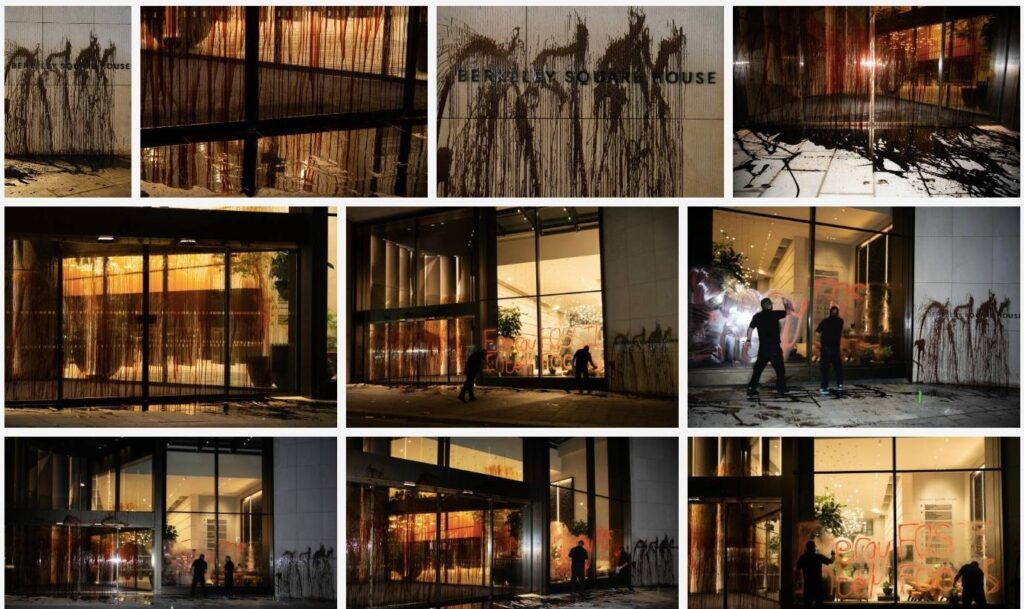 HIT REPORT. In the early hours of Monday morning (16th October) the Energy Intelligence headquarters in London found themselves the target of environmental activists the day before they host the Energy Intelligence Forum.
The company staff arrived to find spray paint graffiti reading "Energy Intel – FOSSIL FOOLS" plastered over the pristine windows of Berkeley Square House. Fake oil was also smeared across the front of the building, dripping down onto the pavement and into the road.
The Energy Intelligence Forum (formerly known as the 'Oil and Money Conference'), is a three day gathering this week of the world's major fossil fuel companies, and politicians, including UK Energy Minister Graham Stuart, Shell, BP, Total, and Exxon.
The Forum has drawn criticism from activists for enabling the industry to continue and expand their extractive operations, in spite of the latest scientific advice from both the International Panel on Climate Change (1) and the International Energy Agency (2), warning humanity of the absolute necessity to prevent new oil and gas projects. It is expected to be disrupted throughout the week by groups from across Europe protesting the climate records and political influence of the fossil fuel majors and banks attending.
The conference comes just weeks after the UK Government approved Rosebank, the UK's biggest undeveloped oil and gas field, sparking protests around the country.
An activist involved said: "There is a stark difference between the narratives of these companies on being part of the transition and the reality of them pouring billions of pounds into new fossil fuel projects that will drive climate breakdown. What this action has shown is that any company helping to support the fossil fuel industry is culpable and will face the consequences."
Sources:
(1) https://www.ipcc.ch/2022/04/04/ipcc-ar6-wgiii-pressrelease/
(2) https://www.iea.org/news/the-path-to-limiting-global-warming-to-1-5-c-has-narrowed-but-clean-energy-growth-is-keeping-it-open