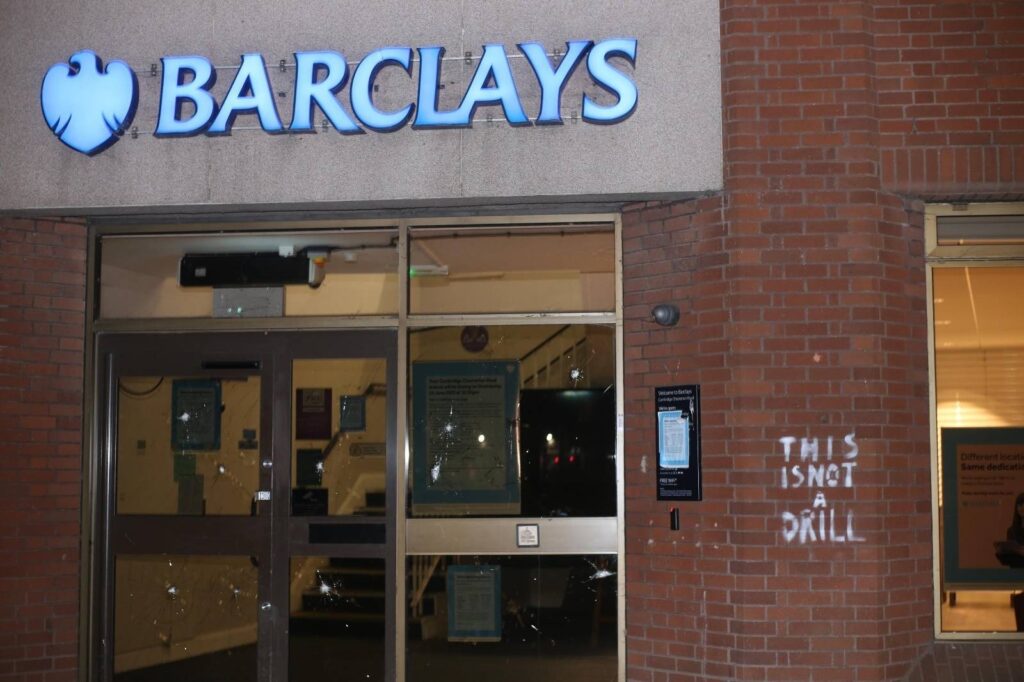 HIT REPORT. Late last night, climate activists smashed the front doors and windows of Barclays' Chesterton Road branch in Cambridge in protest of the bank's funding of fossil fuels and deforestation for industrial beef production. The group spray-painted "THIS IS NOT A DRILL" by their work before disappearing into the night. The action was reported shortly after to the climate action reporting website This Is Not A Drill.
Barclays is the biggest funder of fossil fuels in Europe, and the 7th biggest in the world. The bank has faced many protests for its oil and gas investments in recent years ranging from regular disruption of its annual general meetings to demand an end to fossil fuel projects (most recently by activists singing the Spice Girls to the point of being dragged out by security) to several other window smashings, including at its headquarters in Canary Wharf, a branch in Glasgow, and a branch in Stroud (carried out by one of the founders of Extinction Rebellion, Gail Bradbrook).
Despite being in the Net Zero Banking Alliance, Barclays invested $167 billion in fossil fuels between 2016 and 2021. It's also the biggest funder of the higest-emitting meat giant JBS, known for its relentless deforestation of the Amazon rainforest. The company emitted more greenhouse gases than Spain in 2021, has been involved in child and slave labour, has been caught stealing land, and regularly violates the rights of indigenous peoples. It causes untold suffering on the animals it farms. Barclays funds JBS despite having policies on deforestation, climate, slavery, animal rights, human rights, and corruption.
One member of the group said: "If you don't like broken windows, you should see what Barclays are up to. They act like they own this planet and the people on it – they don't even listen to their own shareholders demanding climate action, let alone the people actually affected by the ecocidal companies they fund. What they're doing is unforgivable. Sadly, this is the only way I'll be able to get that message to them. And if I don't do anything, they and other banks will carry on financing new fossil fuel projects until we're all killed by one of the many interwoven climate disasters now emerging. In inaction, I'd have betrayed the Global South and my own values. In action, I can say to Barclays: stop funding fossil fuels or we'll stop you ourselves."
Among the many catastrophic impacts of the fossil fuel industry is the chilling finding that exposure to fossil fuels is giving people cancer. This is particularly amplified in the local area of oil refineries in the Global South. In Iraq, multitudes of children and young adults are being killed by leukemia inflicted on them by fossil gas (also known as "natural" gas) flaring by BP and Shell. A recent BBC documentary shows the terrible impact with several young children getting sick or dying from the cancer during filming. The oil companies' flaring isn't even necessary to produce oil and gas and is simply a monetary cost-cutting exercise.